Please click here to view our curriculum
Please click here to see what we're learning this term
Staff
Mrs Wilks; Monday & Tuesday (Class Teacher)
Miss Littlewood; Wednesday - Friday (Class Teacher)
Mrs Lewis (Cover Supervisor)
Our Reception and Year 1 children have been working hard to learn a dance for the Shelley College virtual dance festival.
Harvest Little Red Hen Rap
Please click here to view our video
Oats & Beans
Please click here to view our video
Our Mini-Beast Topic
In class 1 we were lucky enough to receive some baby caterpillars which we kept in our classroom, watched grow and finally released as butterflies! We produced lots of work surrounding this, we looked at 'The Very Hungry Caterpillar' and produced fact files on Butterflies.
We had a very special visitor from 'The Bug Man' who brought in lots of 'large' bugs.
We looked at lifecycles in science and we created fantastic woven caterpillars and used ink to produce fantastic butterflies in art!
Keeping Safe Week
This week the children have been learning more about how to keep safe and healthy.
In Class 1 the children learnt some basic First Aid training delivered my Mrs Howbridge and Mrs Holmes. They learnt the 'recovery position' and what telephone number to call in case of an emergency. The session was very informative.
We had a visit from the Fire Engine and some Fire Fighters. We learnt about how Fire Fighters can help us and the importance of keeping safe at home. We learnt about what to do in the event of a fire happening and how to escape from a fire in an emergency.

We have also been out and about in Farnley Tyas. Linking Road Safety with a healthy village walk whilst learning about features and landmarks in our local area. We certainly got our fitness 'steps' in for the day! The children were really well behaved and identified lots of different types of houses and buildings that are so close to our school.
The children in Class 1 have enjoyed some Balance Bike Training outside. All the children developed their confidence and control in learning how to ride and steer a balance bike. It was a lot of fun and the children enjoyed travelling around different obstacle courses, over ramps and under posts. It was a great form of exercise and the chance to help them improve their bike riding abilities. Thank you to our bike balance leader who really supported and encouraged all the children to join in and take part. What a great start to our week. Well done Class 1.
It has been a fantastic start for our new children. They have loved getting to know and exploring what our outdoor area has to offer. We have seen some caring girls and boys helping each other to access the trim trail and making new friendships. They have all done so well at coming in to school independently in a morning and are quickly getting used to our school routine.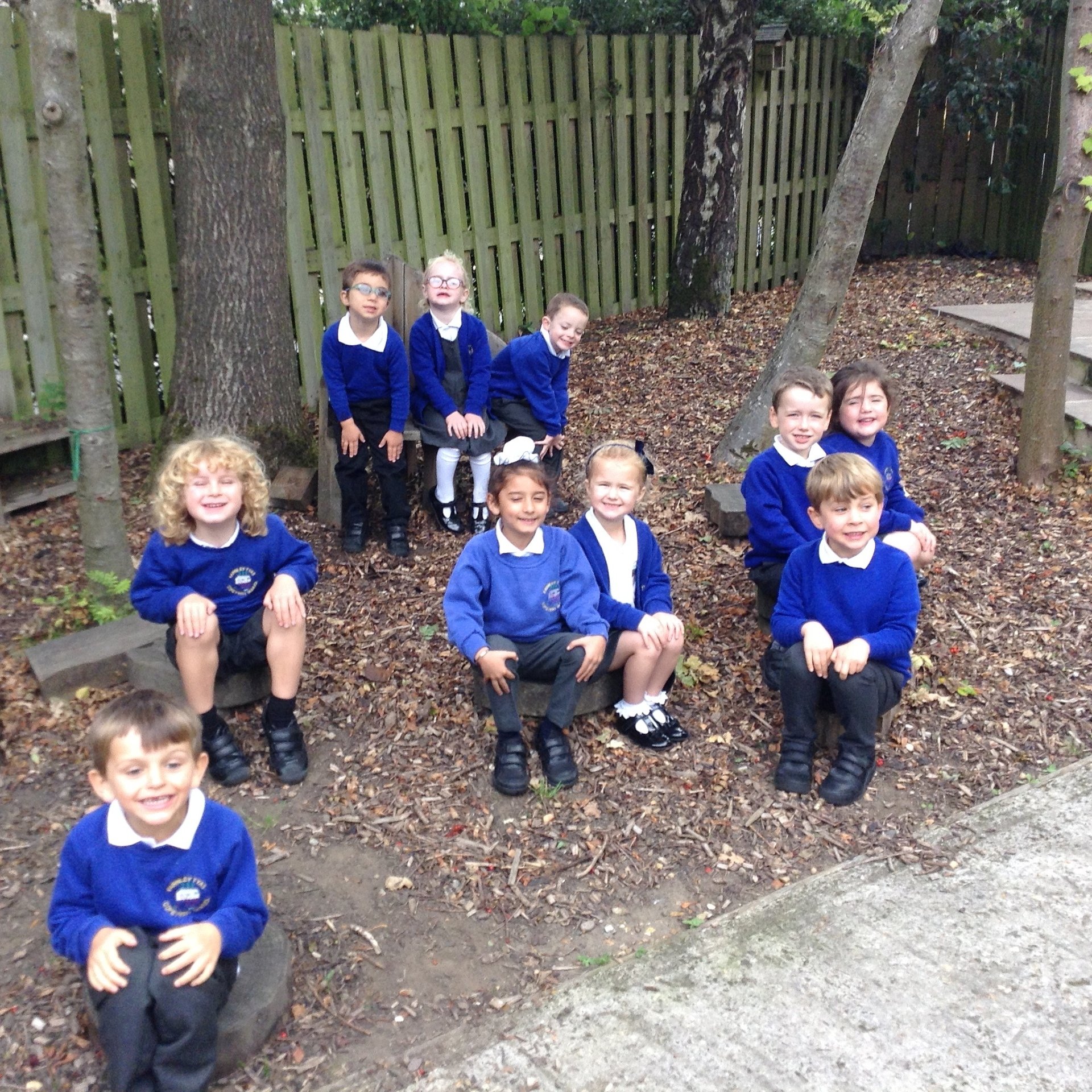 Library
Every other week we have a designated library session. Here we learn how to use the library properly, share our enjoyment of books with our friends gain an understanding of book vocabulary.
Shrove Tuesday
In Class 1 we had a lovely morning making and tasting our very own pancakes. This linked in with our learning that we have been doing on Lent and Easter.
A Trip to Stirley Farm
The children in Class 1 have enjoyed a visit to Stirley Farm. A nearby Community Farm to learn more about our local area and to practise their cooking skills. The children learnt how to make Leek and Potato Soup but first they had to dig for their own vegetables, learn how to prepare them for cooking and finally they got to taste some delicious soup! The children also enjoyed exploring the grounds of the farm to learn more about the physical and human features in our local area whilst hunting and scavenging for different plants and natural things in the environment too. The children were all really well behaved and we were really lucky to enjoy a lovely sunny day in the outdoors.
Reception
Our reception children are settling into school really well. They are enjoying lots of outdoor play including the Mud Kitchen and Role-Play in the house. We have been doing lots of maths and number work outside too and practising our counting and number recognition.
Outdoors and Adventurous
Every week we make use of our woodland area at school and take part in some outdoor learning.
Cooking in the Curriculum
Reception took part in peeling, spreading, bridge knife technique, arranging ingredients and sprinkling to create their fantastic Open Top Banana Sandwiches!
Year 1 and Year 2 got stuck into their Glamorgan Sausages! They developed and used the skills of; scooping, mashing, using measuring spoons, snipping, mixing, moulding, egg washing.