Pupil Engagement


High Quality PE
March 2022 - Girls Federation Football Team
Winners of the Shelley Pyramid Cup
Huge CONGRATULATIONS to our all girl Federation Football Team for a superb team effort in the recent Shelley Pyramid sports event at 5core. The girls showed real team spirit, lots of determination, strength and support. The team won all of their matches and only conceded 2 goals. It was a brilliant display of true team spirit, with the girls changing positions and taking turns at goal keeping whilst they were cheered on and given much support by some very proud parents too.

Well done Girls. Let's hope this is the start of some amazing girls footballing talent moving forward.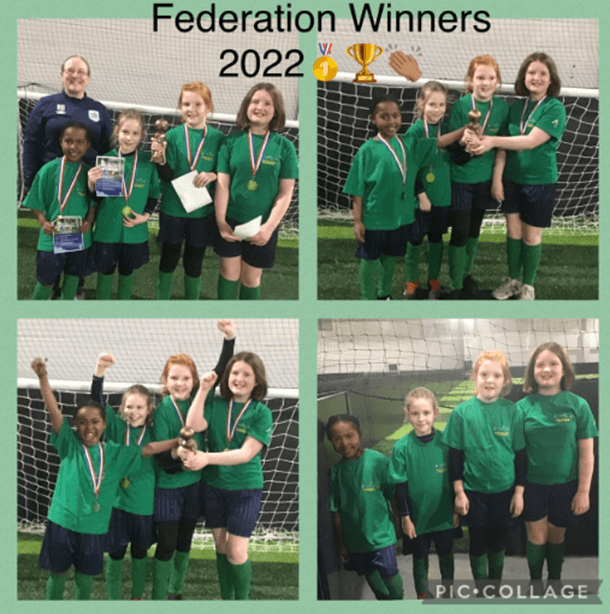 Inspiring Assembly
Andy Morris from Shelley College led our assembly along with Shelley College student, Kayli Howitt. The focus was about inspiring girls to become more involved in sporting activities, although, all the pupils felt more inspired after his assembly!
In her spare time, Kayli is a keen gymnast and regularly competes in high level competitions. Mr Morris and Kayli explained to the children how everyone can find a sport that they enjoy and if you practise you will always improve.
Children were told about events that take place within the area that they can become involved in, as well as other opportunities that will be coming up.
Kayli. a current pupil at Shelley College shared her story about the different sporting activities and hobbies that she has and still does enjoy.
Federation Cup
After a tricky start to the Federation Cup due to the rain, the Year 4 and Year 5 had a fantastic time in the inter schools competition. The children had practised their cricket skills in a few intra- school events but we're beaten on the day by Denby School.
KS2 Boy's Football Competition
The boys were lead and coached by Mr Littlewood on the night. They played fantastic football, showed courage, determination and grit! They had some great matches within the A - team competition and did the school proud. Mr Littlewood said, "They worked their socks off against some bigger schools." Out of 26 teams Farnley were positioned a fantastic 3rd! Well done boys. The boys were also sporting the new Farnley Tyas Football kit that was purchased through a donation to the school by Longwood Engineering.
KS2 Girl's Football Competition
KS2 Greenhills First Federation Girls Football team played amazingly at the Girl's Football Tournament. They showed great team spirit and support for each other throughout the event. The girls won 1 drew 3 and lost 1 putting them in 3rd position overall. An incredible accomplishment. Well done girls - the school is super proud!
Sponsorship
A big thanks to ABS for sponsoring our new Federation Sports Kit. The children will look very smart in when representing the Federation in future sporting events.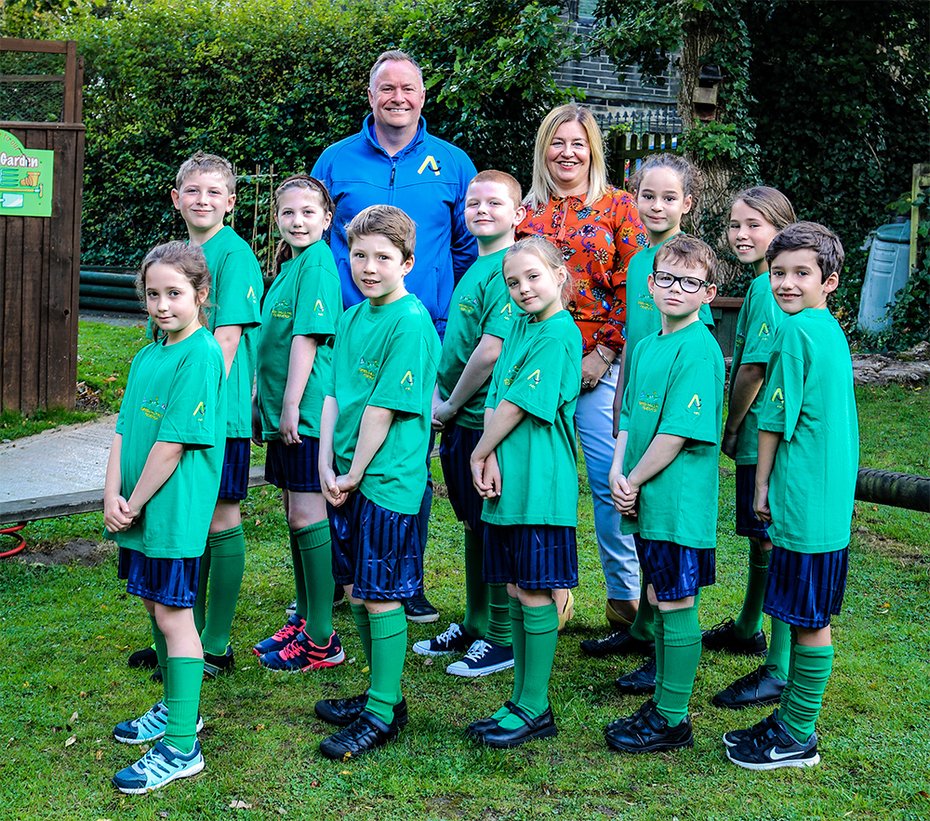 Kirklees Scissett School Swimming Gala
Congratulations to all of the children from Farnley Tyas who entered the Scissett School Swimming Gala. You all did us proud by competing in your event. A huge congratulations to the year 5 boys for winning the 'Boys Scissett Swimming Gala Trophy with a huge 18 points! an incredibly evening with some very talented young swimmers.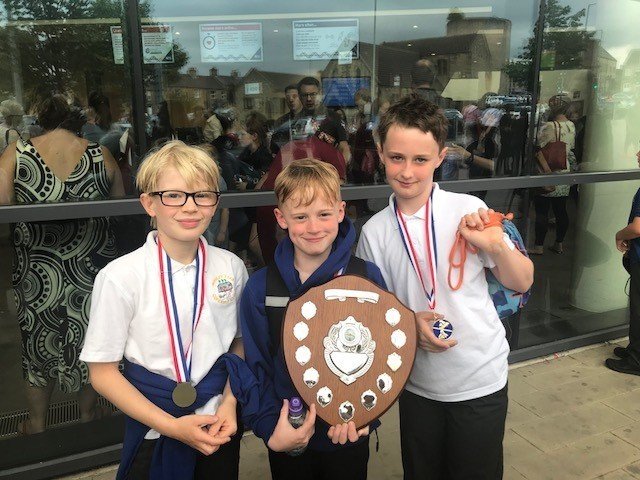 24th National Swimming Championships for Primary Schools
Children from KS2 swam in the 24th National Swimming Championships for Primary Schools on Sunday. The children swam at the John Smiths Stadium against schools from all over Yorkshire. The children showed determination and effort and reached the finals in both events. The children were placed a very impressive 4th and 5th in the open relay and the mixed relay.
Year 1 and EYFS Cross Country Running
Children from Year 1 and Reception entered the inter-school cross country run at Highburton First School. The children had a fantastic time and helped to raise money for Forget-Me-Not Trust. Well done to all the wonderful children who took part. Here are a selection of photographs that were taken by the Huddersfield Examiner.
We Won!!
On Tuesday evening Farnley Tyas First school entered the Shelley Pyramid High 5 Netball Competition and came an amazing 1st!! The children were undefeated in all their matches and played fantastically as a team. At school, we are incredibly proud of their achievement - Well done Class 2.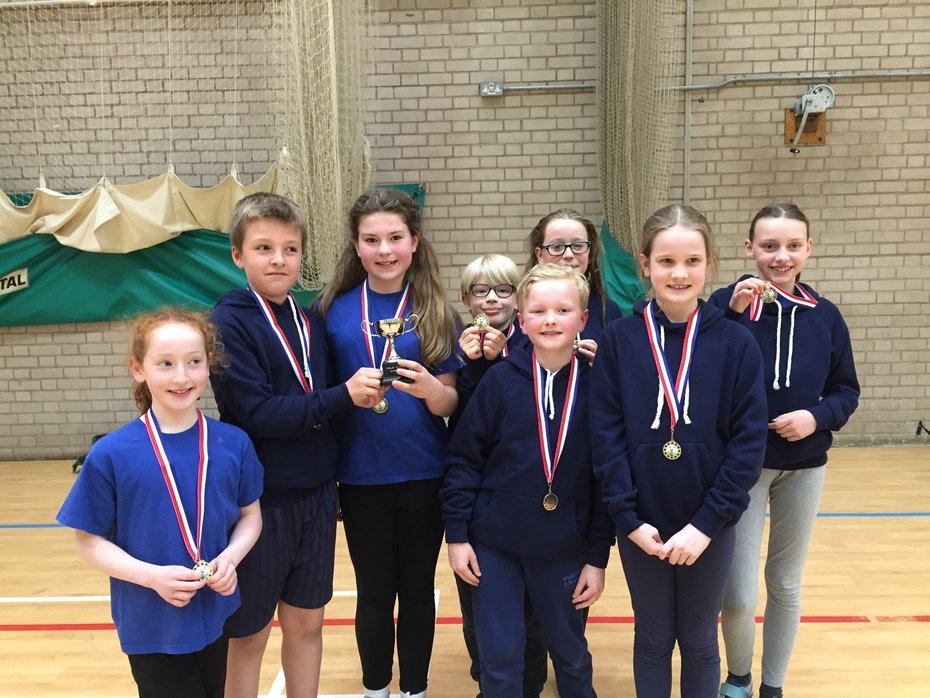 KS2 Netball
The whole of KS2 had some top-quality netball training from Mrs Hughes from Kirkburton Middle School. She came to teach the children some key-skills to sharpen their netball game for next weeks inter-schools competition.
KS2 Girl's Football
Three of our year 5 girls joined with girls from across our Federation schools to compete in the KS2 Girl's Football competition held at Kirkburton Middle School on Tuesday evening. The girls played exceptionally well with some incredible shots at goal. The goal-keepers also made some cracking saves ensuring that we didn't loose a single match. We finished joint 5th out of 10 teams with a total of 4 points. Well done girls.
Year 5 Bikeabilty
Children in Year 5 undertook 2 days of 'Bikeability' training. They were commended on their excellent behaviour and effort in applying new skills that were taught by trainers throughout the course. The children learnt how to keep safe on roads within the local area. Well done all Year 5 for passing with flying colours.
Get Active
The year 4 children met with other children across the pyramid to join in a Get Active morning run by the Shelley Sports Partnership. The children tried out a range of active sports which looks like a lot of fun. As a special treat the children had a special visitor - Andy Booth from Huddersfield Town who was accompanied by the Champions League Cup!
Taekwondo
Alex came into deliver a Taekwondo After School Club. The children learnt discipline, skills and enjoyed fun games. As you can see from the pictures they definitely look like they are working hard!
KS2 Boys Football
To describe Tuesday's football as 'muddy' is an understatement. That didn't deter the children from playing some blinding football. Class 2 had some superb matches and the level of the football this year was very high from all the schools across the Kirkburton Pyramid. Well done to all the children who took part—we are immensely proud of you.
Year 2 enjoyed a morning of multi-skills sports at Shelley College.
Mrs Hughes and her 'Sports Crew' from Kirkburton Middle School, ran an advanced cycling afternoon at the rec. The children were pushed to the limits in timed events and skill-based activities.
| | |
| --- | --- |
| | Our girls joined together with children from Thurstonland and Denby to form the first 'Girls Federation Football Team'. They did us proud by coming 4th in the competition! |