As we are a small school we encourage a strong family ethos. We live our Christian values in everything we do. We love going on trips, having visitors in school or just themed days organised by the teachers; everyone gets involved. Have a look around to see what has been going on in and around the school.
Maths in School
Take a look through the following images to see our children exploring maths around school. We try and make maths lessons fun and practical.
The Deep
The whole school had a fantastic time visiting 'The Deep' on Monday. All the children had a great time learning about all the different marine mammals and fish that live in the oceans. Each class did a workshop. Class 1 learnt about habitats which supported their new topic of 'The Seaside' and Class 2's workshop used some investigative skills to work out which fish had committed the crime in 'Inspector Sharky'. Class 2 also got to have a good look at the estuary and the mouth of the river to finish of their topic work on rivers and coasts.
Health and Safety Week
Children have been incredibly busy learning how to stay safe in our 'Health and Safety' Week. We had a range of visitors in school to teach the children key skills to keep healthy and safe. The children even had a lesson in Health and Safety from Mrs Howbridge and Mrs Holmes.
Christmas
The whole school took part in our Christmas production. There were a lot of lines to learn! But we managed and it was fantastic.
Honley Feast
Children from KS1 & KS2, met Mrs Bulmer and Miss Littlewood early on Saturday morning to launch the opening of Honley Feast. The children created elephant masks alongside local artist Chloe Williams back in school, which they wore in the parade. The children played instruments alongside the Honley Samba Band as they paraded around the village.
Our Chickens
We have had 3 new starters to Farnley Tyas First School this year! Mrs Cluckson, Chick Norris and Henny. The children have taken responsibility for their care. We have a rota to feed, water and clean out the chickens. We have thoroughly enjoyed collecting and selling the eggs to parents.
Yorkshire Wildlife Park
The children were a credit to our school when we visited Yorkshire Wildlife Park. We saw many different animals but a firm favourite were the polar bears! We had a classroom session. Class 2 learnt more in depth about the life of polar bear and its survival techniques. Class 1 learnt all about the habitats of different animals in the park as well as getting the chance to hold lizards, African land snails and a giant cockroach!
Walk to Thurstonland School
We enjoyed our walk to Thurstonland so much last year that we decided we would do it again this year! We had glorious weather and the children were all impeccably behaved. We had our lunch at Thurstonland park and was back in time for home time!
Red Nose Day
What a fabulous effort made by all our 'Bake Off' competitors. We saw Storm Trooper cup-cakes, pirate buns, chocolate jelly-tot cakes, red nose pop-sticks and wonderfully iced red nose cakes. We had a fantastic turn out by both parents and children to the sale; thank you for all your support.
We started our 'Red Nose Day' fundraising by having a 'Wacky Hair Day'. The children created some masterpieces, along with the teachers.
Farnley's has got talent!
Look at all these talented children who took part in this afternoon's talent show. Well done everyone you kept us entertained all afternoon. We had joke telling, dancing, singing, spoon playing, impressions, musical and poetry recitals.
World Book Day
What a super effort made by all the children this morning! Children participated in an assembly parade to show off their incredible outfits. Throughout the day they are enjoying a whole range of Julia Donaldson 'Book Day' inspired activities. Can you spot which characters the children have dressed up as?
Federation Tea Party
Greenhills First Federation celebrated its first birthday. Guests and School Councils from Thurstonland, Farnley and Denby met to speak about their individual school. A shared piece of art work from across the three schools was revealed by Mrs Kitchen.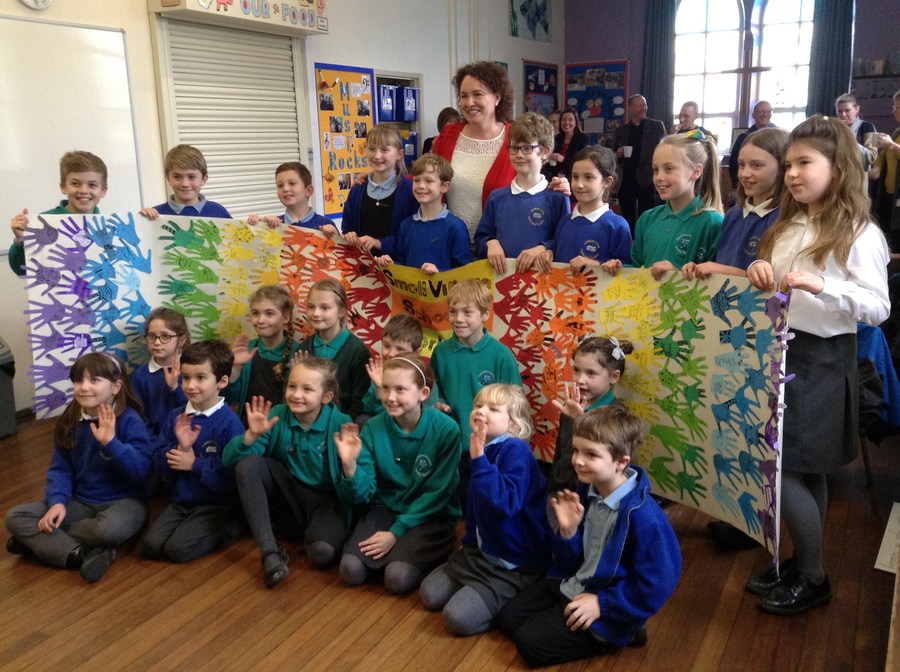 Diwali
During Diwali Miss Perkins cooked a wonderful 'Diwali-inspired' lunch. The children also tasted some amazing food of samosa and bhaji - cooked freshly by a very kind grandparent! Other activities went on throughout the day.
Our Whole School Trip to Butterfly World
Farnley Tyas First School performing at the Lawrence Batley Theatre as part of the Jump and Shout Dance Festival.
Mighty Sky
Class 2 travelled to London to sing in the Mighty Sky Music for Youth Concert, at the Royal Albert Hall. The Mighty Sky choirs and Orchestra featured musicians from across the country.
The children were lucky to be invited to sing at the Royal Albert Hall and they took the role very seriously. All were enthusiastic and keen to perform as well as they could and from a parent watching, the performance was amazing. Thoroughly enjoyable and a real credit to the work and effort that has been put in both the teachers and pupils, a very big well done.
Mrs Alison Holt
Thank you so much for organising such a wonderful event for both us and our children. It was an amazing event that has created everlasting happy memories that we are able to share with our children. To perform at such an iconic venue was just brilliant and all your hard work, including getting us there safely is very much appreciated.
Thank you,
Mrs C Bullas
The sun was shining when we all went on a trip to Scarborough's Sea-life centre.
Class 1 visited Hope Bank Art Studios and created some fabulous pieces of work based on the work of Barbara Hepworth.