Exploring the Arts
Farnley Tyas First School took part in the Kirklees Biennale Celebrations. We worked with artist Izzy and Chloe to produce these amazing pieces of art that were positioned along the railway line. The focus was on local landmarks and the children studied the effects of light, tone and the colour-wheel.
Carol Singing in Matalan
The children in class 2 visited Matalan to raise money for charity. They sang for 2 hrs to the public and had a fantastic afternoon.
Young Voices
Class Two children travelled to Sheffield Arena and had a wonderful day, with hundreds of other performers, at the Young Voices Show.
Music Lessons at Farnley Tyas First
Class Two enjoy a weekly brass lesson with Kirklees Music School every week for 3 years. They have the choice whether to play the cornet or trombone. Class One have a weekly chime bells lesson on a Monday. We believe strongly that following music, keeping to the rhythm helps children promotes concentration across all areas of the curriculum.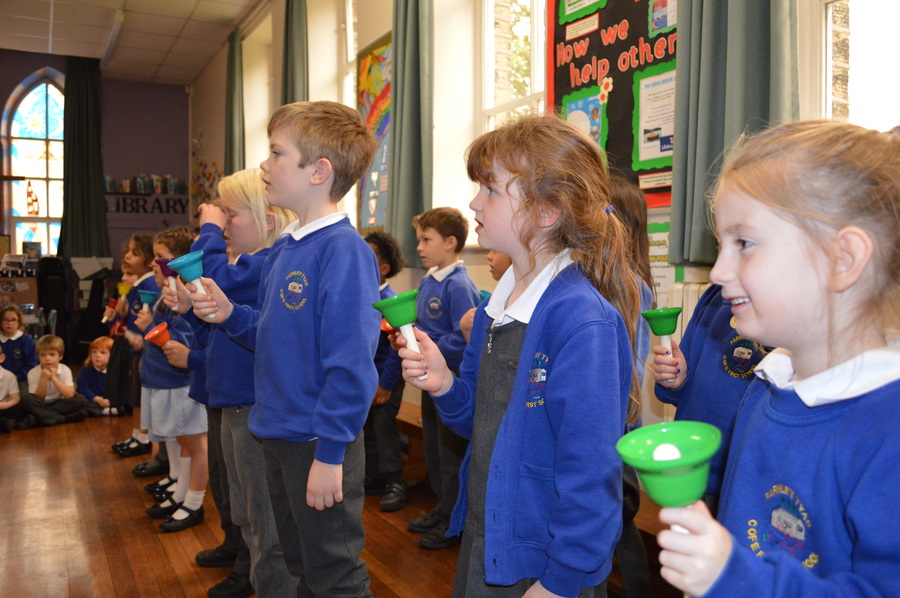 Honley Feast
To kick start our new school year,the children got into the community spirit by collaborating with artist Chloe Williams to create elephants masks. Children were part of the launch event for Honley Feast, a tradition community event, in which they paraded through the village playing musical instruments alongside the Honley Samba Band. This event was just one of the brilliant ways in which our school discovers the arts and embeds them into our curriculum. Back in school, the children have been learning about life in South America and the Rainforests. In our weekly brass lesson KS2 children are learning the sounds of Samba and the Rumba!
Take a peek inside our sketch books and read the feedback from parents and pupils.
"The sketches are fab. Cate has been particularly interested in Indian culture and fashion

."

"A brilliant idea to showcase everybody's work."

"The range of work that my children are involved with is extensive it has supported their understanding of different arts and artists. They have enjoyed all of it."

"It was tricky drawing the mouth."

" I found the hardest thing was the petals."
.
We created a field of sunflowers for the Tour de France Grand Depart parachutes.
We created these robot models form recycled carboardboxes and covered them with modrock
Click on these sketches to enlarge them.
In Art Club we were inspired to create our own Mondrian with acrylic on canvas
Concrete Poetry
We have written our own poems, based on the story of the Iron Man by Ted Hughes.
To look closer, click on the images.
Click on the photographs below to enlarge them