Ethos and Worship group is made up of six children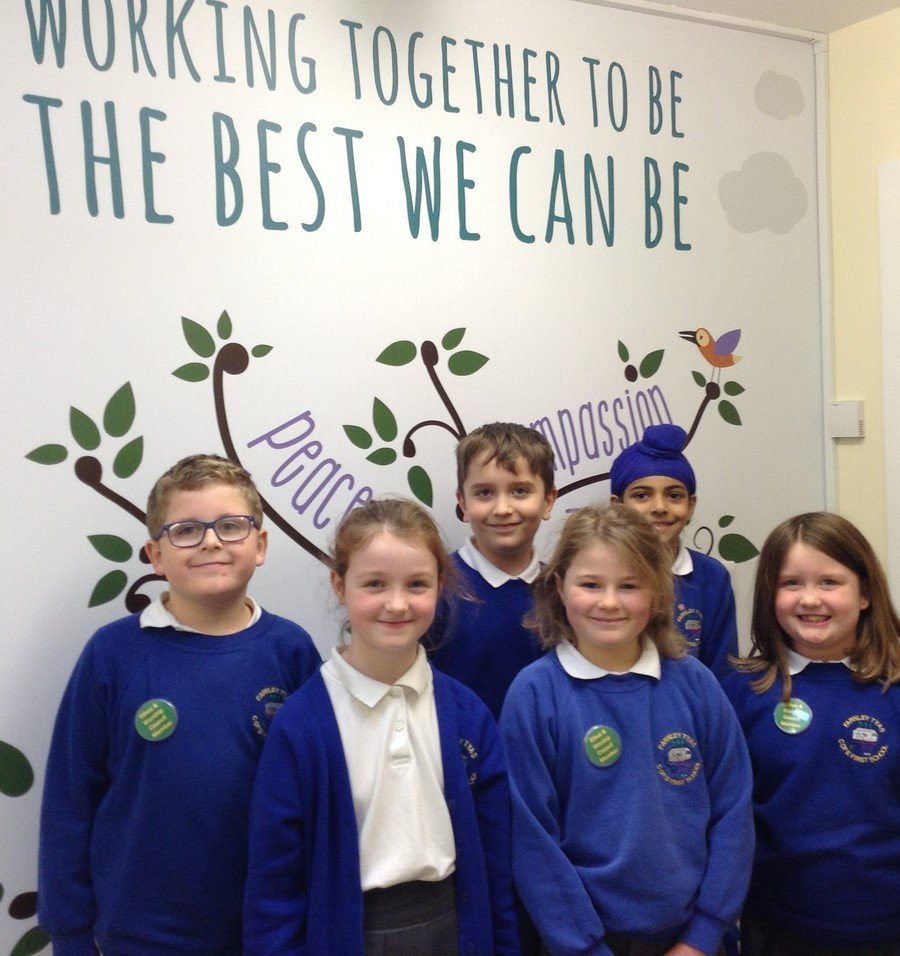 Meet our Ethos and Worship Group. This group aims to develop our Christian distinctiveness at Farnley Tyas by promoting our school values, enhancing children's education and developing links within the community.
The role of the Ethos group is to help our children understand our school Christian Values. We meet in order to discuss aspects of our school's commitment to our Christian ethos, to work on the value for that term and decide on the activities we would like to do. We then demonstrate our thoughts and conversations to the rest of the school with fun activities and thought provoking worship.
Our school family is made up of children from different faiths. We all share the same values and we are determined to uphold these values in our school. We would like to tell you a little about our Ethos group and the impact that it is having on our school.
Your word is a lamp to guide my feet and a light for my path. (Psalm 119.105)
Christingle
St Lucius' church kindly donated bags containing everything we needed to create a Christingle! Our Ethos and Worship group took full advantage of a learning opportunity and in their own time learnt about the different parts and why we make them. They then very bravely stood in front of each class and delivered a powerpoint presentation and modelled how to create their very own Christingle. The whole school took part and thoroughly enjoyed themselves.
The Ethos and Worship Group have decided as a group that the first School Christian Value that we would focus on would be 'Compassion'. Due to the strange times we are currently living in, they thought it would be appropriate for us to focus on the children within our school. They decided that during 'lockdown' children had missed out on quite a lot of things, one of which (quite a big one) being birthday parties! As the only time we can now be with our friends is when we are at school we are going to organise these in school! At the end of every month our group will organise two 'bubble parties' for all of the children that month who had a birthday. Our first one was held at the end of October and as we had missed September birthdays we celebrated those too. Both parties were a huge success... all children were on their best behaviour and we all had a lovely time.
As part of our Day of Remembrance, our Ethos and Worship Group laid a wreath on behalf of the school at the village war memorial.
Our Christian and Ethos Worship Group thought that we could extend our Christian Value's to our wider community. Their thoughts ran to people of Huddersfield that maybe homeless and how to help them. 'The Huddersfield Mission' is where they ended their charitable search.
The Ethos and Worship Group held a 'Board Games Night' after school. This was open to the whole school and children were charged to attend. The group advertised, organised, resourced and ran the entire night.
The Ethos and Worship Group then went on a trip to 'The Huddersfield Mission' where they handed a cheque for £166 to Paul. Paul, who runs the charity, gave the group a very valuable insight into how the charity runs.